Make infrastructures reliable and rethink mobility
---
setec tpi takes part in the design, modernisation and widening of transportation infrastructures looking for a more sustainable mobility.
---
A trusted partner

Thanks to its experience, setec tpi analyses and supports many transportation projects that reshape our society.
setec tpi is able to meet the clients' current requirements and priorities as well as their commercial objectives and at the same time comply with the evolving sustainable and efficient construction requirements.
For the past centuries, different transportation systems, both road and rail, have been at the centre of the social and economic developments.
Currently, clients face new challenges: increase in the number of infrastructures' users, reduced budgets, safety and high service quality standards.
setec tpi supports its clients during all the stages of the project, from the design to the construction but also once the infrastructure is operational.
Our experience in Maintenance & Repair services is our best guarantee to ensure not only the functionality of the infrastructures but also their rehabilitation and how we always consider their lifecycle.
---
An effective project management
setec tpi's renowned experience in fields such as civil engineering, planning & development and industrial facilities allows our teams to manage transportation infrastructures' projects, effectively and unitedly.
Amongst the requirements met by our engineering (multidisciplinary) project managers: the accuracy and synthesis, accounting of all the challenges and stakes of the project, identification and management of risks and following actions and programme and cost control.
In addition, our teams have access to document controlling solutions, specific software or project management tools (agile, obeya…) in order to effectively manage the most challenging projects.
---
Grand Paris Express
The Grand Paris Express is the hugest construction site of the century in Europe. Thanks to its experience of more than 50 years in the infrastructures' sector, particularly underground, setec puts all its experience and multidisciplinary skills at the service of this large project.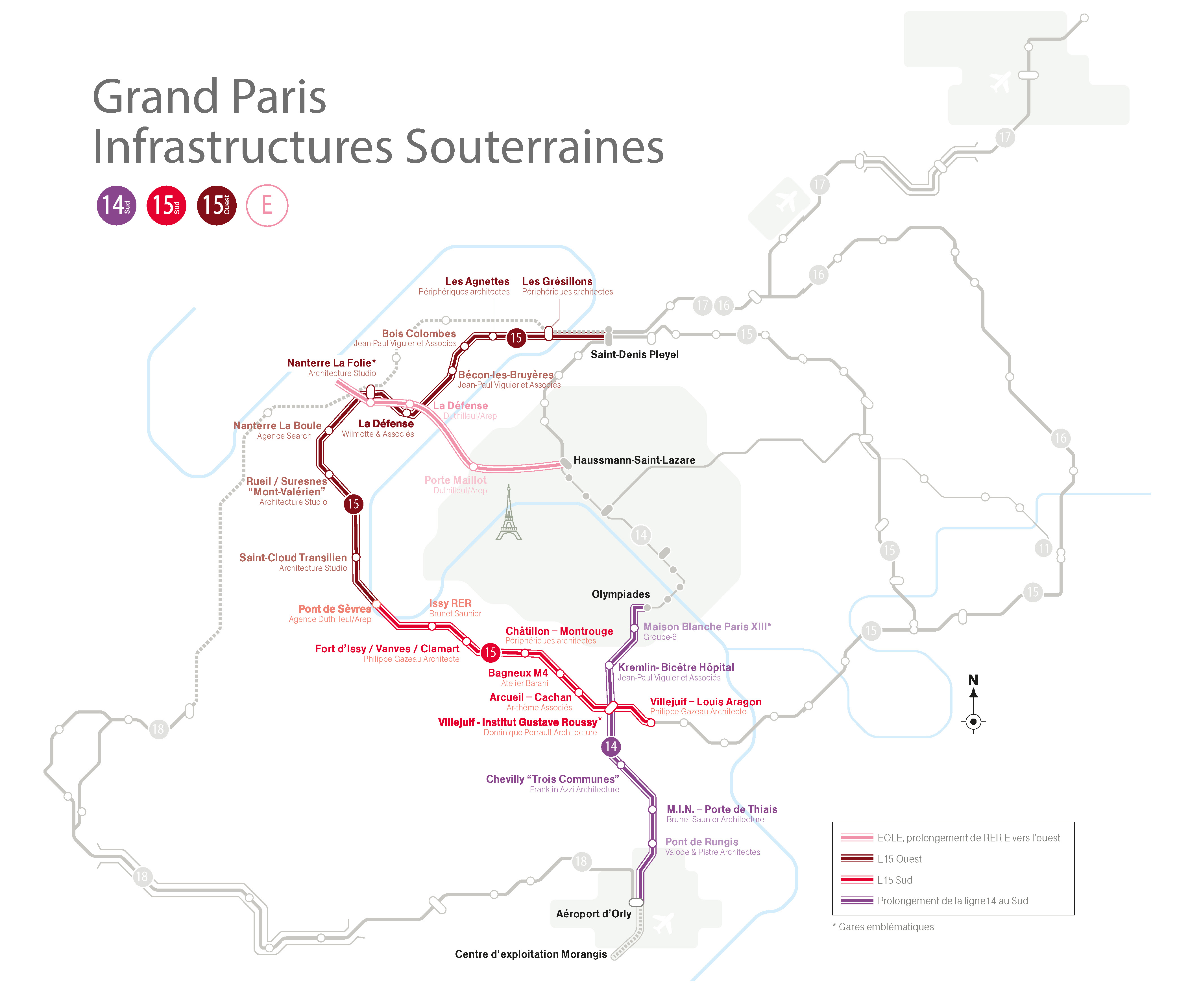 setec understands the completion of underground structures in a dense urban context. Therefore, setec has created the Direction Grand Paris Infrastructures Souterraines or GPIS (Grand Paris Underground Structures Board). The objective of this board is to manage and apply efficiently all the lessons learnt from the four sections of the Grand Paris framework.
These four sections are the western extension of the EOLE line (from St Lazare to La Défense), new line 15 south (between Pont de Sèvres and Villejuif-Louis Aragon), southern extension of the line 14 (between Olympiades and Orly Airport) and the new line 15 west (between Pont de Sèvres and Saint Denis Pleyel).
The GPIS regularly shares these lessons learnt with the project teams, board of directors and our committee of experts. The goal is to provide our clients (SNCF, RATP and SGP) with customised solutions to the challenges that we come across on the different sites and face those challenges more efficiently.
Key numbers
Diaphragm walls: 500,000m2
Tunnel with TBM: 50km
Concrete slab are in stations: 300,000m2
Excavated material: 7,500,000m3
To find out more about the Grand Paris Express
---
©setec tpi