Project
"Marathon repair works under the Channel"
The immediate consequence of the very short completion times was that the logistics formed the heart of the rehabilitation process. It was necessary to coordinate the civil engineering and electromechanical works, supply the sites with materials using tunnels with continuous Shuttle and Eurostar traffic, working in a one-track tube with temperatures of nearly 30°C!"
Source: "Le Moniteur" dated 14 March 1997.
The southern rail tunnel under the Channel was subject to repair works between KP 41 720 and 42 200, following t h e fire that took place on 18 November 1996.
The diagnostic of the damages allowed areas to be marked out according to their level of damage.
The civil engineering repairs to the tunnel essentially consisted in restoring the existing facing by the application of wet shotcrete following the scabbling of the damaged concrete and sandblasting, or the use of a floated dressing.
The average loss of clearance represented two centimetres, with a plus or minus tolerance of 1 cm.
---
2008 – 2009
Due to the fire declared on the 11th of September 2008 between the mileages 46km 240m and 49km 770m, the northern rail tunnel underwent some repairing works.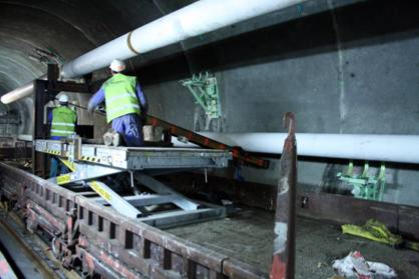 The chellenge:
The full re-opening of the tunnel on the 1Oth of February 2009 was achieved thanks to the ablity of the Engineering Project Manager to mobilise and organise a multi-disciplinary team of more than 60 members.
The teams were divided into backoffice studies as well civil engineering and facilities works on site. These plus all the resources, materials and logistics provided very quickly by the main contractor were key for the project success.
---
Services
setec tpi carried out:
Diagnosis of the damage in the affected area.
Consultation with contractors.
Assistance in the finalising of the contracts and the opening of tenders.
Coordination and supervision of the works.
Management of the works contracts.
Handover of the works and supervision of the as-built file.
Preparation of files for the Intergovernmental Commission
---
Key information
Client: Eurotunnel
Main Contractor: Freyssinet
Engineering PM: setec
Duration: 1997 and 2008 – 2009
---
©Eurotunnel – Jacky Lannoy